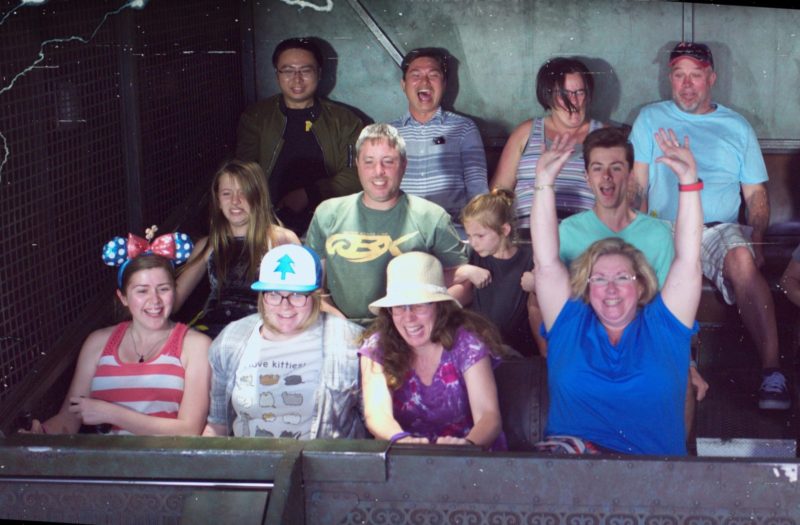 Last week I rode the Tower of Terror at Disney World for the first time in my life. I've included evidence of this accomplishment in the above picture. I'm in the front row: not the woman in blue with her hands in the air, but the woman next to her who is holding on for dear life.
I will be honest – it was not my idea to go on this ride. I was cajoled by my 17-year-old daughter, who has loved this ride since her dad introduced her to it at the tender age of 3 (she's the one in the striped shirt with the huge smile on her face). Since that first ride it's been her goal to get me on it, and I finally gave in to her appeals.
Moving through the line into the appropriately decorated Hollywood Tower Hotel, I was keenly aware of the flood of emotions, thoughts, and physical reactions running through me. I was excited (or at least that's what I told myself) to be having this experience and bonding moment with my girls. But living up to ride's name, I was also moderately terrified. My stomach was in knots, I was dizzy and slightly nauseous, and I almost managed to convince myself that these symptoms were justifiable grounds to leave the line and patiently wait at the exit. Classic flight response.
These thoughts and reactions are not new to me; they have been almost a daily personal roller coaster ride. In my 15 years as a fundraising professional, and now as a budding business entrepreneur, I have ridden these ups and downs on a regular basis. I'm sure many of you can relate to some combination of the anticipation, anxiety, and elation of conquering your own unique challenges.
In the world of fundraising, the majority of these rides revolve around an action that is central to our work – THE ASK (insert ominous musical interlude here). A Google search of "Fundraising Anxiety" comes up with almost 5 million results, and in my work with board members, the most common responses to my question of "How does asking someone for a donation make you feel?" are "Anxious", "Nervous" and "Terrified."
I get this. I feel these same emotions almost every time I pick up the phone to call a foundation program officer or prepare for a team presentation. But I also know that this is my job, and exiting this ride is not going to help my organization, nor is it going to help me grow as a human being. As I move through the amusement park that is my life, I've developed a few strategies and mantras that keep me from becoming paralyzed by my emotions:
1. As much as possible, prepare.
If you are someone who can effortlessly charm others and pull facts out of the air, then you have my undying admiration and a little bit of envy. I am not one of those people. But I have found that I can compensate by preparing myself as much as possible. Having a conversation is much easier when you know the name of the person you want to speak to, along with what they might be interested in. I also write down my talking points and practice speaking about them with colleagues, those wonderful non-threatening individuals that can give me the praise and constructive ideas I need to move forward.
2. Remember we're all human.
As I continue to write this blog (and if you continue to read it) you'll find that I will be hammering some fundamental points over and over. My first and core lesson in fundraising (and life) is this:
It's all about relationships
As humans we all have our strengths and our idiosyncrasies. Some of us love the wild rides, and some prefer "It's a Small World." But in the end, we all want to feel valued and relate to each other. Making ourselves a little vulnerable also makes us a little more human, and helps us to relate to others. Don't be afraid to make a bad pun, or to show your emotions.
3. Keep moving forward.
Whether you love the ride or hate it, the important thing is that you've had the experience to make an informed decision. Celebrate your wins and use the momentum and elation you feel to get back in line. If you don't have a good experience, work to "channel your inner Elsa" and let it go (I'm not a Frozen fan, but anyone with kids under the age of 15 can probably relate to this phrase). If you evaluate what you've learned, then history doesn't have to repeat itself, and you can have an entirely different experience the next time around.
Looking back on the high points of my life, I've found that the day-to-day outcomes are less important than the feelings I've had from accepting the challenges and moving forward. And at the end of the day, I think that even with all ups and downs of the Tower of Terror, I might just want to do it again.
---
Thanks for reading! If any part of this was informative and/or entertaining for you, and you are not already on my mailing list, you can join now on the CONTACT page to receive regular posts on nonprofit development ideas (and brief voyages into my personal life). While you're there, if you want to dive in further and get help with grant writing or fundraising plans, email me at [email protected]. You can also connect with me on Facebook and LinkedIn.